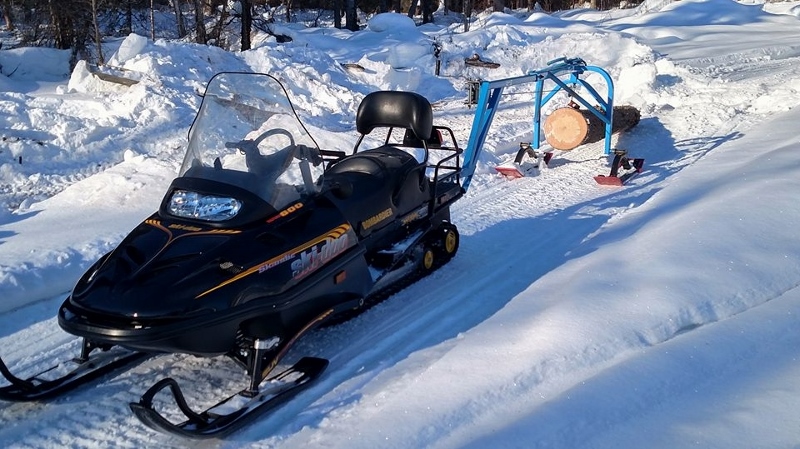 In the woods, on the beach, or over the snow, moving logs safely and keeping them clean is important to good sawmilling.  Logrite is the answer to doing this with your ATV, Snowmachine or even by hand.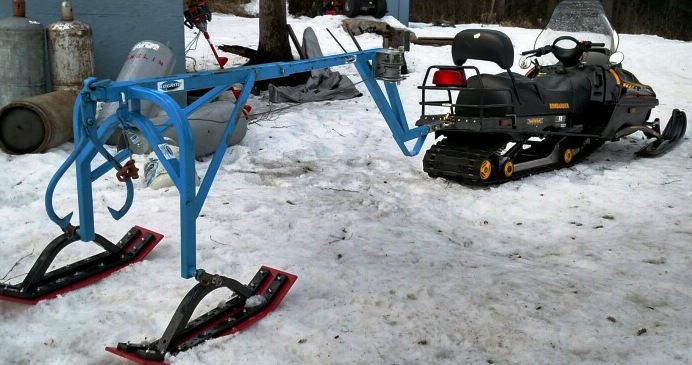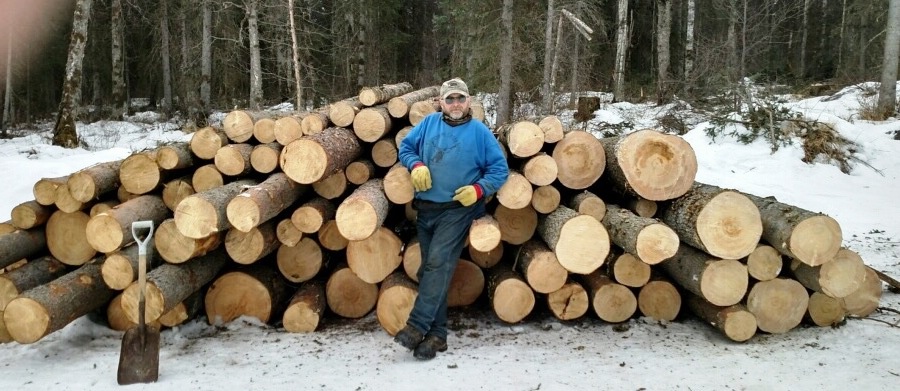 Larry Beyer and his wife, Lori, live about 16 miles from Skwentna.  Larry sent us these photos of a weeks work skidding logs home with his
Buck Arch.
We use Logrite in Alaska because they are the only tools that don't bend or break.  Call 907.360.2497 for a price.
Floatation tires give the blue Logrite arches an advantage over rough uneven ground and soft beaches.
One of our favorites is the ATV arch. With a capacity of 2000 lbs it can really move logs!  Watch it work in this short video.
The Fetching Arch converts quickly from hand operation with its powerful steel tongs to a choker equipped winch lift ATV Arch.  Watch it work here.
The Logrite Junior Arch is just the right size to work in wooded areas where you want to one or two trees out.  It makes gathering trees for sawing or for firewood easy and fun.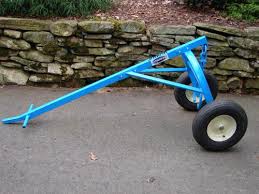 Watch as Kevin uses it to remove a single tree from a tangled situation.
Because we bring mills and equipment up from the Lower48 in large ocean-going containers you save money.
Call for special Alaska-only pricing.  907.360.2497.  Or click here for information.
Cant Hooks and Peaveys
Which is better for you?
What is the difference between a Peavey and a Cant Hook?
Traditionally cant hooks were used around sawmills for turning cants. While peaveys were designed for and used for river drives.
Both tools consist of a handle with a swing hook. The difference between the two is what is on the end of the handle and the way the tools grip a log. A cant hook has a small toe hook on the end which provides a second biting edge. A peavey has a point on the end which is used to separate logs.
Today these tools are used interchangeably and are capable of doing the same jobs. So it comes down to personal preference when choosing between the two tools
See the Logrite Peavy lift a heavy log off the ground for firewood cutting.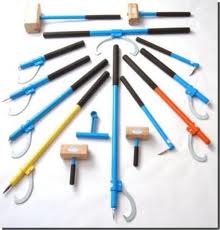 Special prices for Alaska Customers.  Logrite tools come in our 53 ft containers and save you hundreds of dollars in freight.  Call 907.360.2497 for a price or click here for a quick email reply.
Dare to compare?  Watch the Logrite Junior to move a log that a Northern Tool and Equipment arch can't lift.
Want to get your kids involved in log harvesting?  Of course we do!  Here's how.