For those who have reservations for the July 2020 Timber-Framing Classes, the class has been Postponed due to the national health situation.  
It's too early to know when we can re-schedule the classes.  We will email students and contact you as soon as we know when we can expect our classes to re-start.
Jim Thomson and I are confident that this class is SO important  that we want it back on the calendar as soon as it makes sense to do it.
Call 907.360.2497 to reserve your place in the class.
---
Class Descriptions for TF101 and TF102
---
TF 101  Wall Framing
---
June 29- July 3 with July 4th (Saturday) reserved as a rain day. $995.00 ($895 for returning students), for 5 days.  Great Noon meal included.
Vertical posts with hand cut English Tying Joints give the structure long life and a solid personality.  Curved braces lock the top plates and support posts together for a firm connection between the upper wall structure and the bottom plates.
Cross members are notched into the vertical posts with required door headers also notched in.
The wall structure is then dis-assembled so that the roof can be constructed with the upper wall plate at ground level. 
Consistency and accuracy is paramount with traditional timber framing and we make use of a number methods both traditional and modern to ensure this is achieved.
Go/nogo gauges, templates and Sketchup will all be used throughout.
In addition, we also make use of 'rods' a traditional method of measuring similar framing components used since medieval times.  Rods have the advantage over tape measures as they are much more absolute in the marking of components.
We also introduce the use of Timberlinx connectors, a mechanical method of jointing heavy timbers as an alternative to conventional carpentry.  There are a number of mechanical jointing options available but in our opinion this is by far the best.  The resulting joints are visually indistinguishable from joints produced using traditional carpentry but requiring less time time, specialist equipment and expertise.
We will be demonstrating how we use Sketchup 3D design software to visualize designs concepts to both students and our customers in all of our classes.
TF102 Roof and Rafter Framing
July 6-10 with Saturday, the 11th as a Rain Day.  $995 ($895 for returning students).  Catered Noon meal included.
Following the TF101class, the frame is partially disassembled.  The wallplates and tiebeams are then laid out on the ground and used as the base for the roofing class – for reasons of safety and accessibilty.
Students will learn how to layout and manufacture principle rafters,kingposts and purlins during this class.
We will demonstrate the use of hand tools as an alternative to power tools where appropriate.
When you attend our Timber Framing classes you will learn to use of a number of proven techniques developed over the years in Scotland and the UK.
Timber Frame Class Tool Recommendations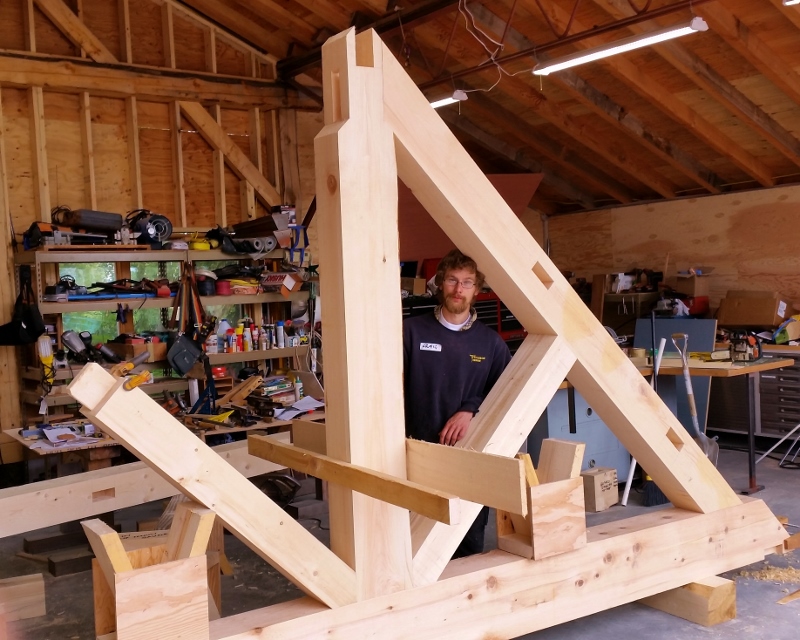 Craig Thomson